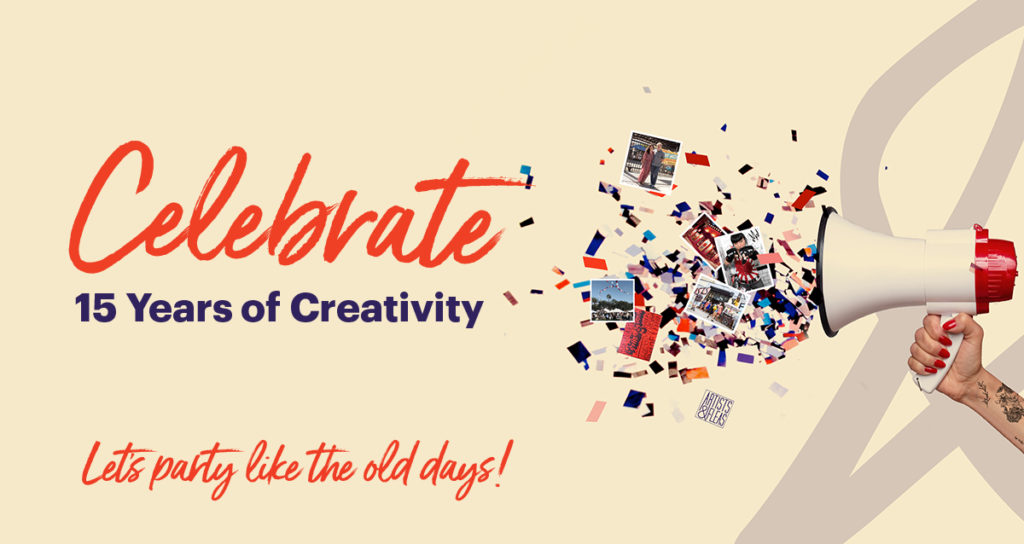 Artists & Fleas 15th Anniversary Party: Celebrate 15 Years of Creativity
Celebrate 15 Years of Creativity with us!
Let's party like the old days at Artists & Fleas Williamsburg. Join us for a happy hour party with plenty of 2000s flair on Saturday, October 5 featuring special surprises, treats, and limited-edition products from our makers.
You'll enjoy…
2000s-themed playlist from our DJ to transport you back to our early days
Unique self-portrait experience provided by Self Portrait Project
$10 piercings & $50 flash tattoos with Live By The Sword
Treats provided by Brooklyn Floss, Branch Patty, Nikkiikkin Cookies, and Bonbon Lakay Inc
Special surprises throughout the evening
Limited-edition anniversary products from 4 Artists & Fleas makers
Unique finds from over 80 local brands & artists
This October, select Artists & Fleas makers are launching special, limited-edition products to commemorate 15 Years of Creativity with Artists & Fleas. Be the first to shop these totally unique finds at the party, featuring creations by:
Dani & The Rings
Designer Luchiya of Dani and the Rings loves connecting with the community of makers in our marketplaces, and she created this necklace to honor her A&F family. Each stone in this dainty orange sapphire & amethyst necklace represents a different location of Artists & Fleas, three of which are home to her brand!
Eat Records
Add some rock 'n roll flair to your record player with this commemorative slipcover.
I.E. Spa Indulgences
Bask in the essential oils of this exclusive anniversary scent from I.E. Spa Indulgences in a limited-edition Artists & Fleas design.
Rose Wolf Collective
Finally bring home the scent of an Artists & Fleas marketplace with this limited-edition soy-wax candle from Rose Wolf Collective. Topped with an amethyst stone, this candle can transport you from your living room to the bustling creativity of the market.
You can shop limited-edition products at any of our markets! See below for the full list and where to find them:
Brooklyn Charm, Artists & Fleas Chelsea
CHACANA, Artists & Fleas Chelsea
Cynthia Rybakoff Jewelry, Artists & Fleas Chelsea
Dani and the Rings, Artists & Fleas Chelsea, Soho, Williamsburg
Eat Records, Artists & Fleas Chelsea, Soho, Williamsburg
I.E. Spa Indulgences, Artists & Fleas Williamsburg
ISLYNYC, Artists & Fleas Chelsea
Jewels by Atlantis, Artists & Fleas Chelsea, Soho
Nanako, Artists & Fleas Chelsea
PASTE, Artists & Fleas Chelsea
Peyote Coyote, Artists & Fleas Venice
RKNYC, Artists & Fleas Chelsea, Soho
Rose Wolf Collective, Artists & Fleas Williamsburg
Succulents for Haiti, Artists & Fleas Venice